Are you aged 30 or under? Interested in giving back to your local community, shaping the lives of younger generations, and boosting your employability along the way? School governance could represent the perfect opportunity for you. As you may be aware, governors play a vital role in shaping the strategic direction of a school and holding senior leaders to account. You don't have to be a parent or an education professional to get involved, and schools need governors from a variety of backgrounds to represent the communities they serve.
Young people between the ages of 18 and 30, for example, have recent, first-hand experience of the modern education system, allowing them to offer unique perspectives on a range of issues affecting today's schools. However, governing boards are seriously lacking in young voices. According to stats from the National Governance Association, only 6% of governors are aged under 40 and only 1% are aged under 30, meaning the range of experiences and perspectives on schools boards is currently limited.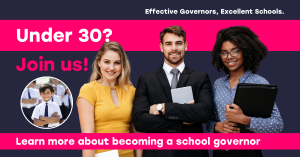 To discover how your experiences as a young person could help address diversity gaps and drive positive change in a school, sign up for our information session taking place on Wednesday, 5th July at 5.30pm. The session will last around an hour and provide you with the perfect opportunity to discover everything you need to know about getting involved and answer any questions you may have. We'll also hear insights from current young governors, who will tell you all about their experiences in the role.
Remember – by becoming a governor, you could help support the next generation while gaining valuable skills such as budget oversight and strategic planning. Plus, you'll be helping to diversify the governance landscape. It's a win-win!