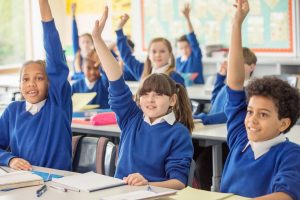 We're delighted to be working with Deutsche Bank again in 2021.
In 2020, through its CSR Born to Be youth engagement strategy, 27 Deutsche Bank employees became governors across England – becoming part of the teams helping deliver excellent educational outcomes for a combined total of 11,226 pupils.
It is as important as ever for people to step forward and take school governance roles and lend their support and expertise to schools as they continue to adapt to the challenges caused by the Covid-19 crisis.
Lareena Hilton, Deutsche Bank's Global Head of Brand Communications & CSR, shared, "We are pleased to continue working with Governors for Schools. In a worrying time for schools and students, a strong governing board will be vital to support a school in tackling challenges they have never encountered before. It will enable schools to tap into the skills and expertise of our employees to bridge the gap in learning — an important step towards helping students fulfil their potential."
Hannah Stolton, CEO of Governors for Schools, states "We are delighted to continue our partnership with Deutsche Bank, bringing the skills of their employees to school boards across England during unprecedented times. During a period of intense challenge, having such volunteers working at a strategic level provides much needed support for school leadership teams."
We look forward to welcoming more Deutsche Bank employees as school governors in the months ahead, and bringing their considerable expertise to benefit schools in their local communities.
All current and future governors will be supported with training and sharing of expertise to help them excel in their roles.