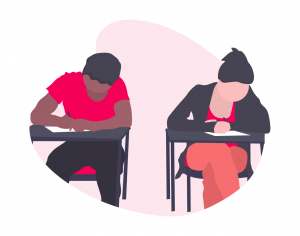 Permanent and fixed-term exclusions have increased in recent years. Exclusions are still a rare event in many English schools, but the increase has been dramatic. 
10 pupils were excluded for every 10,000 pupils in 2018/19, an increase from six pupils per 10,000 in 2012/13. The number of pupils receiving fixed-term exclusions increased from 350 per 10,000 in 2013/14 to 536 per 10,000 in 2018/19.   
The impact of exclusion is clear, both for individuals and for wider social mobility. Analysis of those reaching the end of Key Stage 4 in 2015/16 shows just 7% of children who were permanently excluded went on to achieve good passes in English and maths GCSEs. Only 18% of children who received multiple fixed period exclusions also went on to achieve good passes in English and maths GCSEs. 
Disputing the right of headteachers to exclude is not the right response. Excluding a pupil is a decision no headteacher wants to make (and it's often the only option a headteacher is left with). However, it's important to ask why there has been such an increase in recent years. That's for us all to do, at a national, local and school level.   
Governors, whose fundamental role it is to ask questions at the school and trust level, can understandably feel anxious providing the necessary challenge around exclusion in their setting. This could be both around individual decisions to exclude and the wider use of exclusion within the behaviour management policy.
Questioning headteachers on this issue might feel like calling into question the motives, professional judgement, and sense of fairness of leaders. It's also an area where the divide between the strategic, 'hands-off', long-term perspective of the board and the reality of day-to-day school management – where taking decisions quickly to ensure pupil and staff safety and that pupils' needs are being met – feels at its starkest. It can often be hard to understand and agree on what might be done differently.  
However, the significant consequences of exclusion on both individual pupils and wider social mobility means it's crucial that the rise does not continue unchallenged. Boards must take responsibility for the part they can play in reducing exclusions that might otherwise be preventable. The large differences in approach taken by schools throughout the country shows that this is worthwhile. 
Last year's Timpson review found large variances in the numbers of exclusions schools make. 94% of all state-funded primary schools and 43% of all state-funded secondary schools did not issue any permanent exclusions, but 0.2% of schools (47 schools, all of which are secondary schools) issued more than 10 in the same year. The review went on to say:  
'Schools face very different challenges, but it is clear from this review that the differences in exclusion rates, both fixed period and permanent, are driven both by issues of place (the particular challenges in an area, such as levels of deprivation or gang activity) and policy and practice (the particular means of managing behaviour and thresholds for using exclusion). This range of practice leads not only to differences in when exclusion is used, but to differences in how effectively it is used. In some cases, this can lead to children being excluded who could and should remain in mainstream school with the right support, and others where children remain in school where exclusion would be a fair and appropriate decision that would allow others to learn.'  
Over the coming months, Governors for Schools is working with law firm Allen & Overy to raise awareness among governors of the impact of exclusion on pupils and wider society. We want to equip governors with the knowledge, awareness and language to provide effective challenge around this consequential aspect of school life. In turn, this can help ensure that exclusions are being used as a truly last resort, as statutory guidance says they should. In particular, we want to highlight what might be done before any decision to exclude is taken. To this end, we will be producing a number of blogs, webinars and resources alongside some key partners in the sector.  
Speaking about the work, Jane Higgins, Partner of Allen & Overy and Trustee of Governors for Schools said:  
'Creating an inclusive culture in schools for all children is both an economic and social imperative.   The number of children and young people permanently excluded from state schools has grown at an alarming rate and this is affecting those who are most vulnerable in society.     
Allen & Overy has a long-term partnership with Governors for Schools. Together, we are focusing on the issue of school exclusions which forms a strategic part of the work we are leading on as a firm.   We welcome the opportunity to collaborate and discuss this issue within the governing community and look forward to hearing from our panellists next month, including Edward Timpson MP, who led the independent review in 2019 into School Exclusions.     
One of the recommendations from the report that this panel event hopes to address is how to build the capacity and capability of governors and trustees to offer effective support and challenge to schools to ensure exclusion and other pupil moves such as managed moves and direction into Alternate Provision, are always used appropriately. This should include training as well as new, accessible guidance for governors and trustees.' 
The first webinar is on 17 March, 12:30pm to 1:30pm. Register your place.