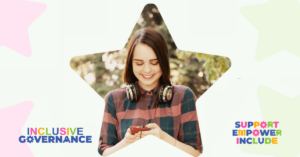 There are many benefits to having diverse governing boards comprising people of varying age groups. One of the youngest cohorts eligible to join governing boards is Generation Z (Gen Z) – those born after the mid- to late-1990s. However, only 1% of governors are aged between 18 and 29, demonstrating significant generational gaps across school boards.
As members of Gen Z start to establish their careers and identities, what experiences and qualities can they bring to the table? To encourage younger people to take up a school governor role, we've compiled a list of five benefits Gen Z can bring to the governance table.  
Gen Z is sensitive to the importance of inclusion: 48% of people in Gen Z say that gay and lesbian couples being allowed to marry is a good thing for society and 50% believe society is not accepting enough to gender non-conforming people. Gen Z also typically believe that increasing racial/ethnic diversity is good for society, with 62% favouring this view. As such, younger people are primed to carefully consider the needs of different groups of pupils and how the school can be as inclusive as possible for all.
Valuable youth perspectives based on lived experience: The older members of Gen Z only left education within the last decade, providing a great opportunity to learn what mattered to them while they were students. A governor with recent lived experience of the education system can make a huge difference to board meeting discussions, providing insights into pressing issues and challenges that matter to pupils.
Environmental consciousness: The environment and climate change are important issues for Gen Z, who seek to make a positive difference to the world in their professional and personal lives. Leveraging these environmental values to assess the strength of environment and sustainability policies can help enhance the reputation and standards of an educational institution.
Resilience and adaptability: Despite their young age, people from Gen Z have been through a lot: fast-paced technological changes, the Covid-19 pandemic, recessions, and other global events that have made them extremely resilient and adaptable to change. Gen Z are also very resourceful and will often look for creative solutions to problems, bringing a unique perspective as they look for ways to improve the strategic direction of the school.
A generation of digital natives: Growing up in the digital era has allowed Gen Z to become technologically savvy and understand the kinds of skills younger generations will need in their personal and professional lives. As the world and schools become more reliant on technology, these skills are crucial for governing boards looking to understand pupils' educational needs and potential future careers.
As well as enriching board meeting discussions and giving back to their local communities, Gen Z governors can develop new skills that will benefit their professional development. To find out more about the many potential benefits of governance, we recommend watching our recent Young Governors Information Session, which covers cover the role of school governing boards, how our free service works, and the training we provide both before and after you're appointed as a school governor.
Find out more and apply 
If you're a member of Gen Z interested in making a difference through governance, why not register your interest with us today? We also encourage you to check out our new 'Inclusive Governance' campaign and explore how we are aiming to promote inclusivity in the governance landscape.