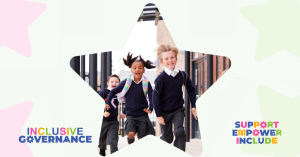 We know inclusivity is at the forefront of many minds within the education and governance landscapes. Despite this positive outlook, school boards often struggle to recruit a diverse range of volunteers. Including a wide range of voices in board meetings is a great way to nurture robust debate and ensure the needs of all sections of the school community are well represented.
However, platforming new voices is a significant challenge, with 77% of boards reporting difficulties recruiting new governors and trustees. According to a recent governor survey from GovernorHub, only 4% of respondents were aged 34 or under, with a considerable 32% aged 65 or over. At the same time, only 8% of governors and trustees surveyed were from an ethnic minority background. To tackle this challenge and encourage a wider pool of volunteers to take up these all-important governing roles, Governors for Schools is happy to announce that we've just launched a new campaign – 'Inclusive Governance' – to coincide with National Inclusion Week. 
Throughout the academic year, we'll release a range of resources designed to showcase the crucial role diversity plays on schools boards, as well as the ways in which governors can raise issues surrounding inclusion in boards meetings. Resources to look forward to include in-depth articles, governor diaries, and engaging podcasts. We're also hosting a series of informative and interactive webinars to introduce prospective governors about the difference they could make within their communities. Our first webinar with Causeway Education and the Sutton Trust, for example, will explore how volunteering as a governor can help you further discussions surrounding social mobility and the impact of socio-economic disadvantage on pupil's post-18 destinations and careers. Sign up now to book your spot and learn more about how governors can promote inclusive education! 
As you're probably well aware, we're committed to platforming inclusive practices within governance and the wider education landscape. Over the next academic year, we look forward to collaborating with a wide range of partner organisations to develop this mission even further. For more information, please visit our campaign page.  
How you can get involved 
As the campaign begins, we invite you to get involved by following us on Twitter, Facebook, and LinkedIn to stay up to date on our exciting activities. We also encourage you to share our campaign webpage and information with your networks. 
If you're interested in promoting inclusivity within education, why not apply to become a governor? We would be happy to match your skills with a school in need.