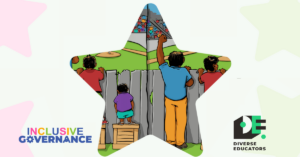 One of the reasons many governors volunteer their time to local school boards is to help make the educational landscape a fairer and more inclusive place. However, for all pupils to thrive, governors must appreciate the diverse and complex ways in which some members of the school community face a disproportionate number of educational obstacles compared to their peers. Such groups of pupils can include, but are not limited to:
Pupils from less advantaged households.
Students who have English as a second language.
Pupils who have a disability as outlined by the Equality Act 2010.
Members of the LGBTQ+ community.
People from ethnic minority backgrounds.
And much more.
Since launching our Inclusive Governance campaign, we've noted that one of the best ways governors can do their bit to make schools more inclusive is to make a conscious effort to discuss equality and equity in board meetings. But what do these terms mean?
Put simply, equality means treating everyone the same way, irrespective of factors such as status or identity. Equity, on the other hand, means treating people differently in certain circumstances for equality of opportunity to be possible.
Creating equity is important within society as it puts students on a more level playing field, leads to better social and economic outcomes across wider society, allows students to feel more engaged and looked after, and leaves staff feeling more confident that they're succeeding in their role. We've teamed up with Hannah Wilson, Director of Diverse Educators to explain the importance of equity in the governance landscape:
It is essential that all governors understand the difference between equality and equity, within the context of also thinking about diversity, inclusion, belonging and social justice. We need to start by discussing what these terms mean to us, and then reflect on how they each manifest within the school context. A lot of schools may believe that they are more diverse, equitable and inclusive than in fact is the reality for many of the school's stakeholders. The role of the governor as a critical friend to the school invites curiosity and an honest exploration of this perception gap. A commitment to DEI requires a lot of courageous conversations and a lot of deep listening. The insights gained can then help to shape the direction of travel and the strategic approach to creating a truly diverse, inclusive and equitable learning environment for students and staff to not only belong but to also thrive.
The following illustration from the Interaction Institute for Social Change demonstrates that while equality means giving everyone access to the same resources, some people may not be able to utilise these resources due to factors outside of their control. As such, governing boards must put measures in place to ensure their actions are both equal and equitable, ensuring every pupil has the same experience.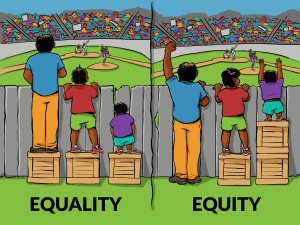 Image created by Interaction Institute for Social Change (interactioninstitute.org) by artist Angus Maguire (madewithangus.com).  
When it comes to speaking about providing equity within schools, it's important that governing boards are…
Advocating for equality and equity within the wider vision and strategic direction of a school. Consider whether the school's vision and strategic direction is relevant and beneficial to all pupils. Governors could, for example, ask questions about targeted measures the school is taking to raise attainment among less advantaged pupils or those with special educational needs and disability (SEND), as well as how they will measure success in this area. Beyond academic attainment, governors may ask questions about whether the school is living up to its stated values, such as community-mindedness, compassion, or friendship. For example, does the school provide reintegration support for vulnerable pupils who may have spent time outside of school? Is this support appropriate and tailored to their different and potentially complex needs?
Having discussions with students, caregivers, staff, and other stakeholders to understand how policies and actions being taken by the school are likely to affect them. Having meaningful discussions across the school community can be a great way to catch underlying flaws in current plans. For example, ensuring lighting and paint colours on walls take into consideration visually impaired children. Other issues could include talking to people within the transgender community about changes to policies surrounding changing their names on registers.
Looking closely at budgets and determining whether the school's financial decisions benefit pupils in an equitable way. As a board, listening to every governor's perspective about the allocation of resources is a great way to ascertain whether funds are appropriately spent. For example, a governor with a background in SEND issues may have a very different perspective from a governor with experience of an alternative provision education. As this campaign highlights, attracting governors from a wide range of backgrounds onto school boards is one of the best ways to ensure pupils from across the community are well-represented.
Catch up with the rest of our Inclusive Governance campaign
For more support on pushing for inclusive practices within your governing landscape, you can have a look at our campaign webpage. You can also follow us on Twitter, LinkedIn, and/or Facebook for updates on the campaign.