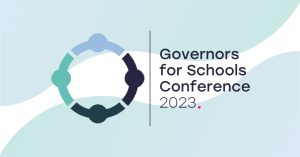 On Tuesday, 26th and Wednesday, 27th September 2023, we were proud to host our third annual Governors for Schools Conference. 
The event was a resounding success with an abundance of interesting insight coming from a diverse range of speakers. With topics ranging from teacher retention in 2023 to board diversity, we're proud to have been able to provide a space for productive discussion. We'd like to also thank speakers for their invaluable contribution to the conference, without whom we wouldn't be able to put on this event every year.    
You can now view each of this year's sessions by visiting our conference resource page, alongside other resources you can use to enhance your knowledge on the governance landscape. We aim for these resources to be available on our website for the foreseeable future to view at your own leisure. 
As an organisation, we would like to thank the Institute of Physics' (IOP) Limitless Campaign for sponsoring the event and allowing us to offer free access to the event for all delegates. If Governors for Schools Conference 2023 has left you wanting more, why not visit our webinars page to find out when we will be hosting our next sessions addressing a range of topics relating to governance? 
Our upcoming webinar on Monday, 9th October will feature Causeway Education and Sutton Trust. They will be discussing social mobility and the impact that socio-economic disadvantage can have on school/pupil's post-18 destinations, and the impact this has further down the line. They will explore what the added value of a governor can be, the importance of inclusivity and diversity, and the potential motivations for volunteering as a governor.   
Find out more about Governors for Schools 
Our website contains plenty of useful links for prospective governors, including more about the role and where to apply. You can also find out more information about our Trustee Recruitment Service, our newly released 'Inclusive Governance' campaign, corporate partnerships, and more. 
You can get in touch with us by sending us an email [email protected].